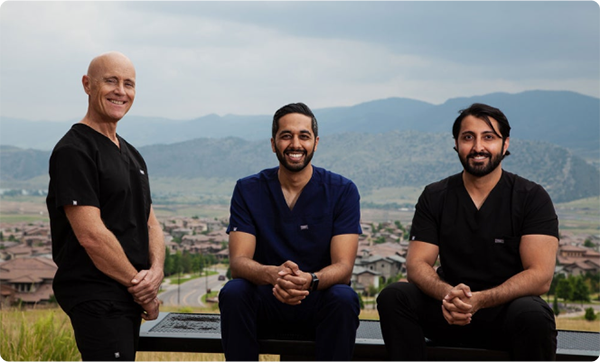 The 5Strands alternative with real doctors
Work with the best doctors in allergy immunotherapy, dedicated to finding a treatment plan that works for you.
START TODAY
How are Wyndly and 5Strands different?
Seasonal and indoor allergies are a problem for millions of Americans. Fortunately, allergy testing and treatments are becoming more accessible and widely available for those suffering from allergies. So, when you come across multiple companies offering to help with your allergies, how do you choose the right option?
Wyndly is the best way to treat your allergies from home and find lifelong relief from your symptoms. Often, when people search for allergy testing options, they also come across 5Strands. 5Strands provides tests for intolerances but lacks any allergy testing or treatment options.
Wyndly doctors specialize in fixing allergies forever
Unlike 5Strands, Wyndly is led by a team of guiding allergy researchers and doctors, committed to offering approachable solutions for allergy testing and treatment. Our doctors are dedicated to listening to your allergy history and concerns and working with you to create a personalized treatment plan based on your allergy profile.
While 5Strands offers an array of testing options, their focus is on intolerances and not allergies, at Wyndly, we're focused solely on allergy testing and treating allergies with immunotherapy. Since immunotherapy is the most effective solution for long-term allergy relief, we only offer the best care. We also know that your allergy care deserves better than a one-size fits all solution. Our doctors will include you in the process of creating your treatment plan since you know what will be most sustainable for you.
Wyndly provides 24/7 expert doctor support – not just nurses
Making our patients feel comfortable and heard is just as important to us as our expert allergy-facing care. When you're working on long-term treatment for something like allergies, you want to be able to talk to your doctor and feel like you can easily approach them when you have questions or concerns. At Wyndly, we're dedicated to our patients. Unlike other solutions, you'll talk one-on-one to a real doctor who approaches helping you feel better with empathy and care. There are no bots and no automated responses when you work with us.
What makes Wyndly a popular 5Strands competitor?
Wyndly is a popular 5Strands competitor because Wyndly offers more focused, comprehensive allergy services. 5Strands offers intolerance testing instead of allergy testing. Wyndly's only offering is allergy treatment because our solution is dedicated to providing our patients with lifelong relief from their indoor and outdoor allergy symptoms.
With leading allergy researchers on the Wyndly team, you can rest assured that you're getting the best allergy treatment plan possible for your individual allergy profile.
Real doctors that care about you
Get treated by leading doctors in allergy immunotherapy.
TREAT ME NOW
Dr. Manan Shah, MD

Founder, Chief Medical Officer

Dr. Zara Patel, MD

Rhinologist & Allergy Specialist

Dr. Brian D'Anza, MD

Rhinologist & Allergy Specialist
Why people choose Wyndly
Why choose Wyndly over other allergy solutions or over traditional in-person allergy treatment plans? There are plenty of reasons! Wyndly makes allergy treatment as convenient and painless as possible while also making it very affordable.
Some of the reasons people choose Wyndly to get relief from their allergy symptoms include:
Long-term allergy treatment at the source
Treatment by a real doctor with years of experience
No more in-office visits required
Affordable at-home allergy test kit
Painless and safe sublingual immunotherapy
Personalized treatment plans based on your allergy profile
24/7 expert doctor support and medicine
START TODAY

Thousands of allergies fixed
Hear from real patients who are breathing easier and living better with Wyndly.
Verified Patient

"I strongly recommend it for any long term allergy sufferers. If you're out there wondering, 'will this work for me?' - please try it."

Verified Patient

"I always had horrible allergies - nothing really helped. Allergy shots weren't a fit for my lifestyle. I found Wyndly, and it changed my life."

Verified Patient

"The drops have been such a great solution for me. I've been doing it for about four to five months now, and it's unbelievable. I can breathe!"
(All patients provided consent for their videos to be shared)
Not convinced? Read all of our reviews.
Long-term allergy treatment at the source
Typically, people will deal with their indoor and seasonal allergies by avoiding their triggers and taking allergy medication during allergy season. At best, this manages your symptoms to a bearable level in the short term. Often, you'll still have some bad days during allergy season, even if you're taking steps to relieve your symptoms.
Wyndly provides long-term allergy treatment instead of short-term symptom management. We send sublingual immunotherapy treatment plans to your door. Sublingual immunotherapy treats allergies at the source. Using drops or tablets that are administered under the tongue, sublingual immunotherapy introduces small doses of your allergen to your immune system. Over time, this retrains your immune system to ignore or tolerate these substances. If your immune system is ignoring allergen substances, you don't experience allergy symptoms.
Get treated by a real doctor
Wyndly team of U.S.-licensed physicians will design your allergy treatment plan, check in with you throughout your treatment, and be available to answer any questions you might have. Our doctors aren't just online doctors. They have years of experience working at their own practice, which is led by experts from Stanford and Case Western. You can trust you're in good hands when you choose Wyndly as your allergy treatment provider.
But the right qualifications aren't the only thing you want out of a doctor. Wyndly's doctors are friendly and approachable. Other solutions may have automated responses or doctors that will send your treatment plan and remain hands-off throughout the process. We're committed to a comfortable doctor-patient relationship, so you aren't left to your own devices during your treatment. Our doctors care about listening to your questions and concerns and ensuring you get better.
TREAT ME NOW
Receive personalized care from world-class providers
ZARA PATEL MD, WYNDLY ADVISOR

BRIAN D'ANZA, WYNDLY ADVISOR

MAHEEP SOHAL MD, WYNDLY ADVISOR
No more in-office visits
In-office visits are inconvenient at best, especially when it comes to allergy testing and treatment. One of the best parts of using Wyndly is that you no longer have to go to an office for allergy testing and treatment. Everything we offer can be done in the comfort of your own home.
However, some people are worried about remote doctors being impersonal. While this may be the case for many solutions, it's not true with Wyndly. Our doctors will remain hands-on throughout the treatment process.
Allergy testing in person can be expensive and uncomfortable. In-person allergy treatment can be even more expensive, inconvenient, and uncomfortable. If you're going to a doctor's office for allergy treatment, you're likely taking allergy shots, which can be painful. You also have to go to the doctor to take every dose. Sublingual immunotherapy, on the other hand, is painless and can be safely self-administered at home.
Allergy care that is affordable and convenient
Wyndly
In-Office Allergy Shots
Pills and Sprays
Lifelong allergy relief
100% at-home care
Personalized treatment
Completely painless
24/7 Support
How is Wyndly different from other allergy medicines?
Wyndly is different from other allergy medicines because it's a real treatment for allergies. Over-the-counter allergy medications and prescription allergy meds are useful for temporarily relieving your allergy symptoms, but they don't treat your allergies at the source. Wyndly gives you access to sublingual immunotherapy, which can relieve your allergy symptoms for life after you've taken doses over time. Wyndly also connects you with a doctor who personalizes your treatment plan and will be available to you throughout your treatment for check-ins and questions.
Wyndly is also different from allergy treatments like allergy shots because you don't have to go to the doctor, take time out of your day, and deal with needles. Sublingual immunotherapy is pain-free and can be taken at home.
Better doctors means better outcomes
Our patients love our doctors and customer service.
"I FEEL HEARD

I just started with Wyndly and I am very impressed. Everyone has been very helpful and most importantly, I feel heard.

"HAVEN'T FELT THIS GOOD IN YEARS

Manan Shah is the best allergist! I haven't felt this good in years. The team at Wyndly really makes you feel like you are getting one-on-one care. They are very responsive and supportive.

"MADE A REAL IMPACT ON MY QUALITY OF LIFE

Wyndly helped me control and manage my seasonal and pet allergies, and made a real impact on my quality of life! Thanks Wyndly!
Not convinced? Read all of our reviews.
The benefits of a Wyndly at-home allergy test kit
If you need to find out what you're allergic to before getting started with a treatment plan, we make allergy testing convenient. Our at-home test kit will be sent right to your door. From there, you just need to do a simple finger prick to provide us with a sample. Send your completed kit back to us and we'll determine your allergy profile. It's that easy!
It's also affordable. Many allergy tests are only covered by insurance if you prove that they're medically necessary, and they're not covered for investigative purposes. That's why we've made our kit affordable, so you don't have to deal with the hassle and expense that comes with in-person testing. Plus, in-person testing usually requires a skin prick test or a blood draw. Our test is easy and painless.
Hear Wyndly's doctor explain the treatment
At-Home Allergy Test Kit

Test for indoor and outdoor environmental allergies like pets and pollen.

Each test includes an online physician-reviewed personalized allergy plan.
How it works
What we test for
What we fix
Frequently Asked Questions
What is the Wyndly process from start to finish?
How quickly can I get started?
Do I need to stop taking my standard allergy medicine before the Wyndly test or during Wyndly immunotherapy?
How do you know what I'm allergic to?
I've already been allergy tested — do I still need to buy a test?
How long does it take for my doctor to review my allergy history?
Who is a good candidate for sublingual immunotherapy?
Can you treat multiple allergies at once?
What is the science behind sublingual immunotherapy?
Why haven't I heard about this? Why hasn't my allergist told me about this?
When will I feel better? Do I have to be on immunotherapy forever? How quickly will Wyndly work?
How long will the results last?
How effective is it? What if it doesn't work for me? Do you have a guarantee?
What are the side effects of sublingual immunotherapy (SLIT)?
How does sublingual immunotherapy compare to allergy shots?
Why is sublingual immunotherapy safer than allergy shots?
Can I switch from allergy shots to sublingual immunotherapy?
What is the cost of ongoing treatment at Wyndly?
Does Wyndly charge per allergen treated?
Does it work for pet dander?
Do you test for or treat food allergies?
Do you treat patients outside the USA?
Can Wyndly work for my child? Do you work with children?
Who is not a fit for sublingual immunotherapy?
How much does shipping cost?
Do you accept insurance?
What is your refund and return policy? Do you have a guarantee?
I have more questions.